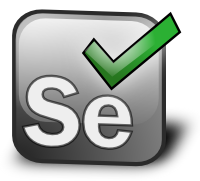 This workshop is designed as an introduction to the popular Selenium family of test automation tools. This course will cover some aspects of Java coding and the sample code under test, but the main objective is to gain a good working knowledge of Selenium for functional test automation.
You will learn the major building blocks of Selenium, along with how to use tools such as Firebug, Firepath, and Eclipse in the process of creating automated tests.
Each step of learning will contain a hands-on lab where you will be able to go step-by-step through the process of creating and modifying automated tests.
In addition, you will learn good practice for designing automated tests so they are maintainable and reusable.
Finally, once you understand how to use Selenium IDE and WebDriver at a basic level, we cover how to know what to automate and what is needed for successful test automation.
Contact us for in-house or live virtual presentations.
Module 1 - Introduction
What is Selenium IDE?

Selenium 3 (WebDriver)

Selenium Grid

Limitations of Selenium IDE

Supported Environments

Fundamental Tools For Using Selenium IDE and WebDriver
Module 2 – Getting Started With Selenium IDE
Installing the Needed Tools

Firefox

Firebug

Firepath

Selenium WebDriver

Recording an initial test

Commands

Viewing the HTML Source and Log

Exercise #1 – Recording and Playing Back Your First Test
Module 3 – Going Deeper in Selenium IDE
Adding Comments

Assert and Verify

Adding Assertions

Adding Verification

What You Can Verify and Assert

Storing Information From The Test

Two Forms of Data Variables

Working With Multiple Windows

Adding selectWindow Commands

Exercise – Recording a Test With Multiple Windows

Expected Results

Testing AJAX

Changing Option Settings

Debugging Tests

Execute Individual Commands

Look at the Log

Slow the Test Replay Speed

Pause, Break and Step

Breakpoints

The Step Button

Creating Test Cases

Creating Test Suites

What Can't be Recorded

Locators

Firebug

Firefinder

Using "Find"

Locating Elements by ID

When Elements Move on a Page

Locating Elements by Name

Summary
Module 4 - Selenium WebDriver
A Brief Background

Selenium 3 Architecture

The Differences Between Selenium IDE and WebDriver

What We Need

How to Set Up Your Java environment

How to Install Eclipse IDE

Configure Eclipse IDE With WebDriver

Creating a Basic Test in WebDriver

Working with Selenium Java Client Driver Files

Configuring Eclipse IDE with WebDriver

About the Drivers

Creating Your First WebDriver Script

Explanation of the Code

Running the Test

Test Results

Exercise

Summary
Module 5 – Going Deeper With WebDriver
About TestNG

Installing TestNG to work with Selenium WebDriver*

Finding Elements by:

ID

Name

ClassName

XPath

Link list

findElement()

Exercise

Testing AJAX

Advanced User Interactions

Keyboard

Mouse

"Actions" class

Exercise

Working With Multiple Windows

Performing Cross-Browser Testing

Design Patterns

Page Object Design

PageFactory Selenium library

Loadable Components Selenium library

Using Private Methods to Make Tests Maintainable
Exercise – Recording a Test With Multiple Windows
Module 6 – Selenium Test Frameworks
What is Framework?

Why use a Framework?

Types of Frameworks

Data-driven

Keyword

Hybrid

How to Implement Keyword-driven Automation in Selenium WebDriver

Exercise
Module 6 – Knowing What to Automate
Key criteria

Real-life Examples

Helpful Test Automation Metrics

More Automation Criteria