We are excited to announce a new way for software testers and business analysts to get the training you need to grow your career, with an affordable monthly membership that gives you maximum flexibility and choice in the topics you can explore.
Plus, you will become part of an active online community of other people who are also learning and growing in their careers.
Now, we offer three ways to gain access to excellent e-Learning courses designed to help you expand your career in new areas:


Monthly membership (individual) - $49.99 USD/month gives you access to over 19 e-Learning courses that cover topics such as Basic Training in Software Testing, SOA Testing, Cloud Testing, User Acceptance Testing, Test Automation and many others, with new courses scheduled to be added to the catalog monthly. You can cancel your membership at any time.


Certification track membership (individual) - $69.99 USD/month gives you access to all the regular monthly membership courses, PLUS our popular ISTQB Foundation Level Course in Software Testing, ASTQB Mobile Tester Certification, and IQBBA Foundation Certification for Business Analysts. (The ISTQB Agile Foundation will be included in the near future.)Exams are not included and a 3-month minimum membership is required. Advanced certification courses are not included.


Fixed-price courses (individual)– This is our current pricing plan for all courses and includes lifetime access to the materials. You pay one price for one course. All of our e-learning courses will still be available as fixed-price courses. The only way we are offering ISTQB Advanced Certification courses is with fixed pricing. In the fixed price plan, exams are included for most courses with the exception of the ISTQB Advanced Security Tester certification.This plan may be the most workable for people who are getting reimbursed by their employer for the training.

See the explainer video here: https://youtu.be/X6pvEIkN7JY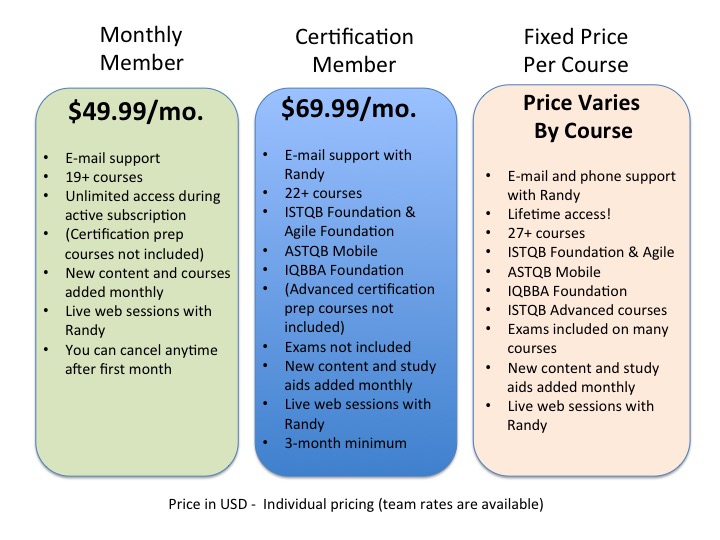 All pricing plans can be quoted for teams and enterprises upon request.


As a member at any of the three levels, you have e-mail access to Randy to ask questions about the content of the course(s) you are taking. In addition, you will get member-only access to special webinars and early access to new course material and other content that Randy is creating.


These e-Learning courses are not just a collection of videos. Rather, they are complete course experiences with the same course notes you would see in a live classroom setting (the notes are shown in a PDF viewer that allows them to be printed), along with quizzes and exercises. The exercises are optional, but do reinforce the concepts in the course.


All of the courses are presented by Randall (Randy) Rice, a well-known author, consultant and trainer in the field of software testing, quality assurance and business analysis. Randy holds all ISTQB Foundation and Advanced Core Certifications, as well as the ISTQB Advanced Security Tester Certification. He has over 39 years of software development and testing experience, with the past 29 years specializing in software testing consulting and training. Randy is on the board of the American Software Testing Qualifications Board (ASTQB).


Upon the completion of a course and the submission of the course evaluation, you will receive a certificate in PDF format.